*Requires a Club Crochet account (Don't worry it's free)
My girlfriend and I recently gave up red meat ever since watching Okja on Netflix, but I'm not gonna lie, I'm having a hard time with it. So to fill in that beef sized hole in my heart I made this little steak keychain!
Materials:
• The Yarn (Worsted Weight)
– Red (Meat color)
– White (Fat color)
• Size G6/4.00mm Hook
• Plastic Saftey Bead Eyes
• Needle
The Stitches:
– Ch : Chain stitch
– St : Stitch
– Sl.st : Slip Stitch
– Sc : Single Crochet
– Hdc : Half-Double Crochet – Inc : Increase
Color Changes:
This pattern requires a few color changes. Be sure to check the note at the end of each Rnd before you make the round to know when to change colors. Carry colors required for each round along with you before you need to do a color change.
For color changes with Color/Color (ex: 1 Red/Blue), make the first pull through with the first color (Red), and next with the second color (Blue)
The Pattern
Meat Halves (make 2):
[Starting in Red]
Ch 4
(1:57) Rnd 1: Starting in 2nd ch from hook, sc 1 in first 2 chs, sc 3 in next ch, Working in back of chs, sc 1 in next, sc 3 in last ch (9)
[Change to White/Red]
(4:00) Rnd 2: Skip the first st, sc 1, sc inc 1, hdc inc 1, sc inc 1, sc 2, sc inc 1, sl.st 1 (12)
(8:06) Cut the yarn, hide end, embroider on a "T" on the front using the White tail.
(13:03) Sew the 2 meat halves together using the long White tail. Sew together by working into the back loops only of the white stitches around the border.
Double knot the two White tails from each half and stuff the knot back into the piece.
Grill at medium heat for around 10 minutes or until sufficiently charred on each side.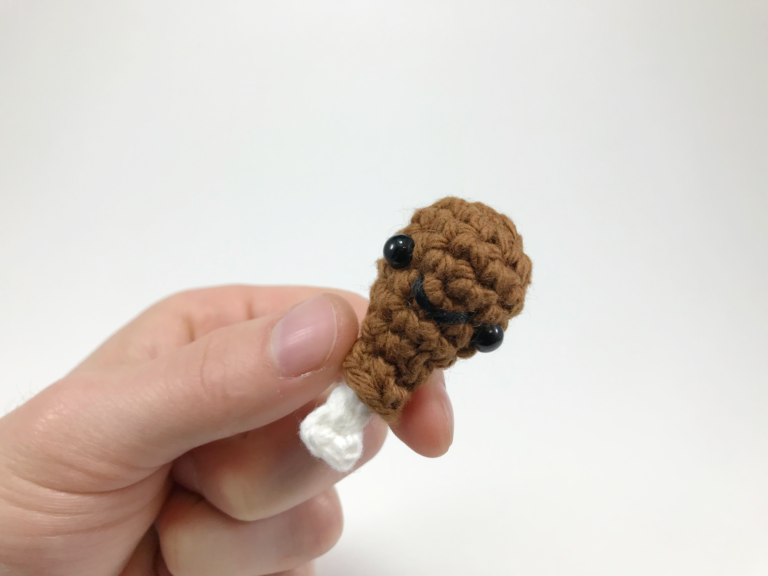 Get early access to patterns!
With a Club Crochet account you get early access to patterns like this one for an amigurumi turkey leg!