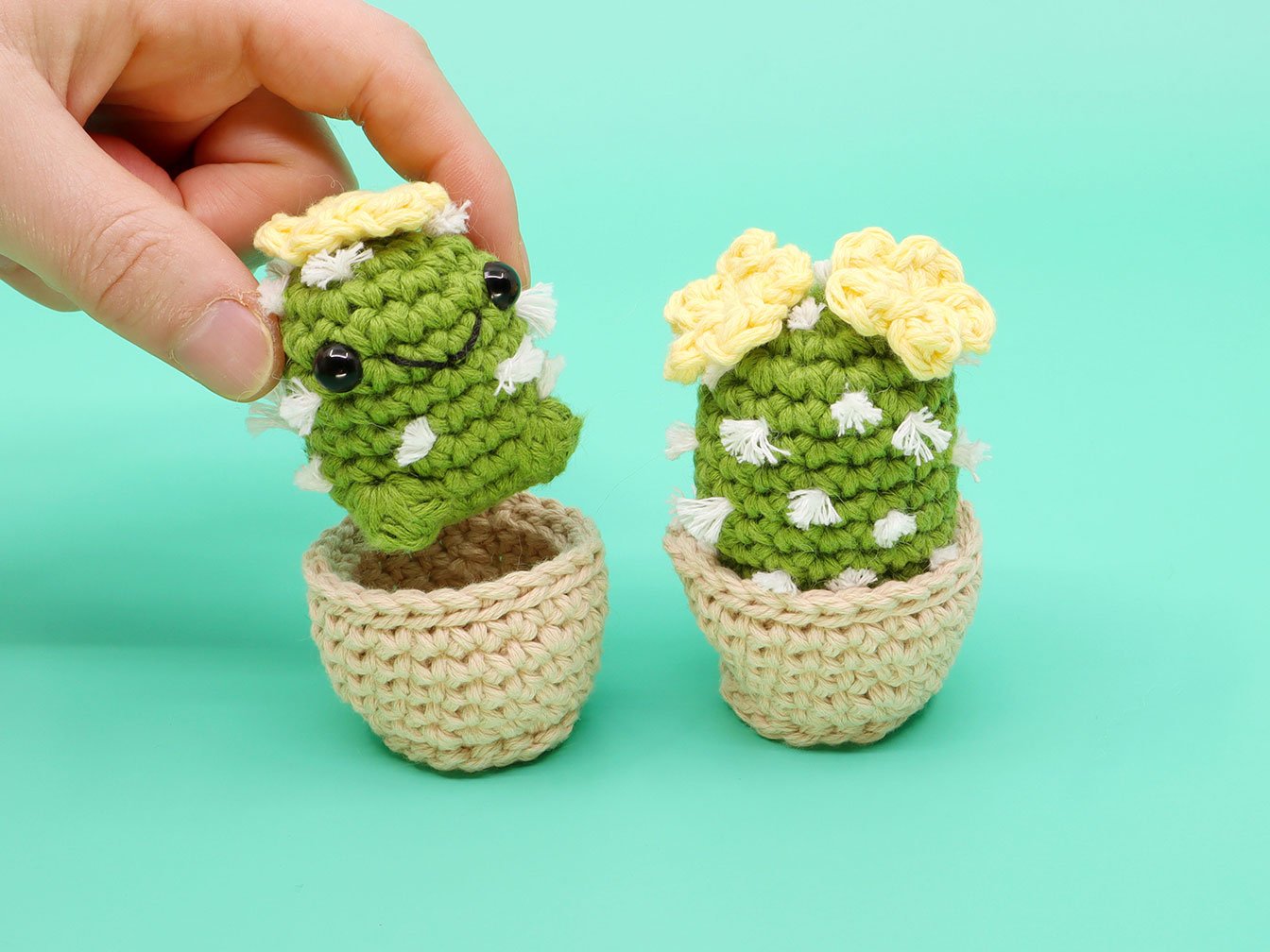 Betty the Beginner Cactus Amigurumi
In this beginner amigurumi crochet pattern we'll be learning how to crochet by making a beginner friendly cactus! This cactus amigurumi pattern is designed with little to no sewing required at all, with various customizations to fit your level of difficulty. This tutorial is designed for complete beginners with little to no experience, and includes a full length video tutorial so you never miss a stitch!
What you'll need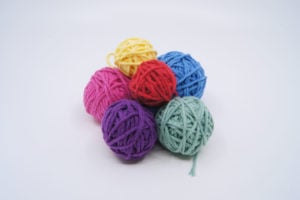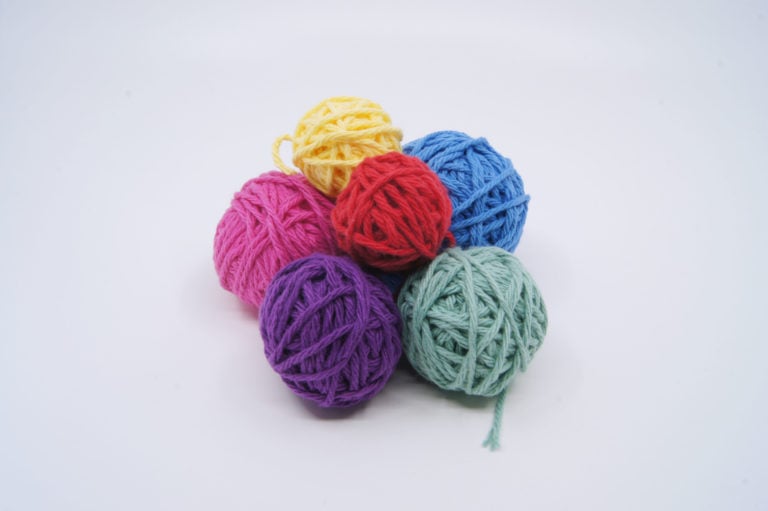 Cotton Yarn
Weight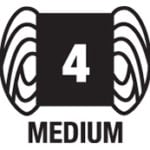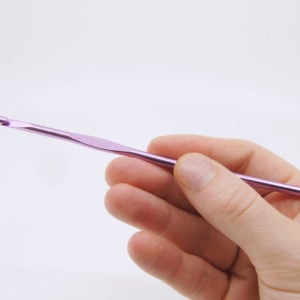 Crochet Hook
G6 / 4.00 mm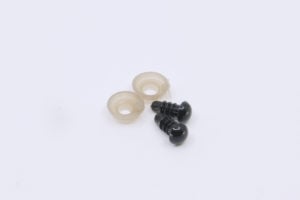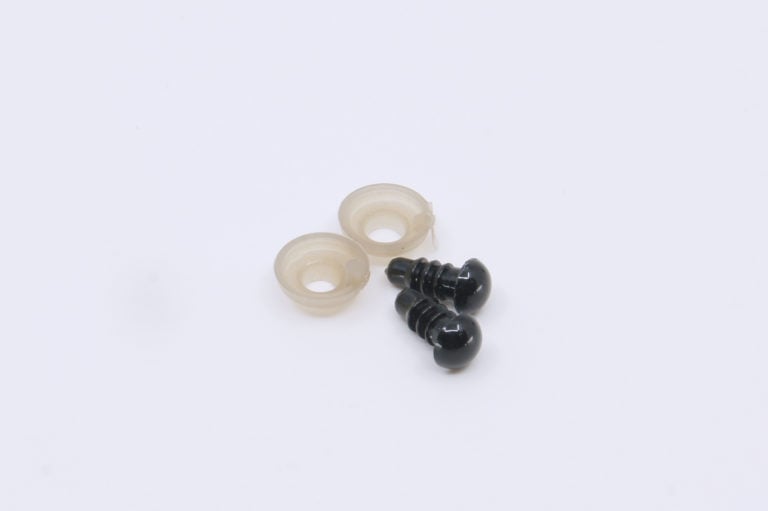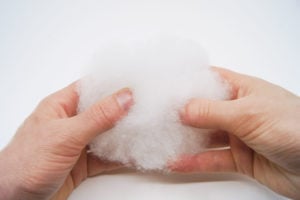 Stuffing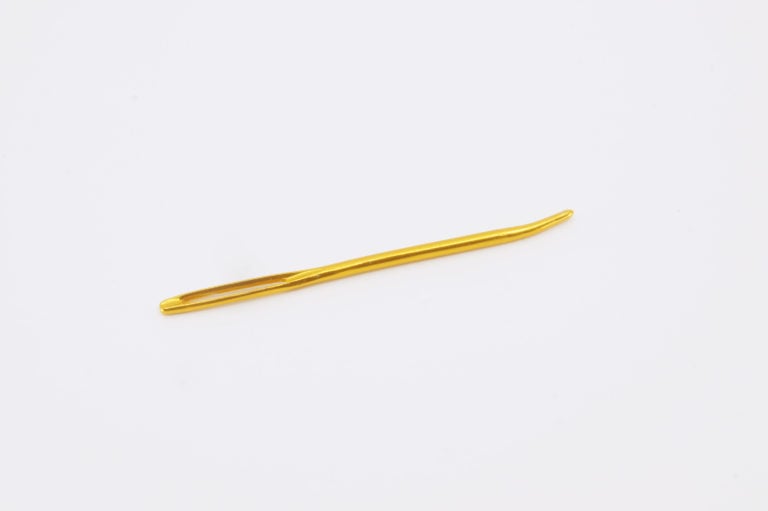 Darning Needle
Abbreviations
invdec
Invisible Decrease
FLO/BLO
Front / Back Loops Only
bo
Bobble Stitch (4-dc bobble)
Other Useful Info
Gauge
5 Rnds and 4 sts per 1"
Size
Finished piece is about 5 inches long
The Pattern

Use the checkboxes to track your progress
(1:23)
The time codes match to the pattern video
[All in Green]
Magic loop
Rnd 1: sc 6 into the magic loop (6)
Rnd 3: [sc 1, inc 1] 6 times (18)
The following Rnds are meant to give height to your cactus. You can repeat them as many times as you'd like, but I suggest at least 5 rounds to have your cactus taller than your pot.
Rnds 4-8+: sc in each st (18 x 5+)
See next section (Adding Feet) for how to use Bobble Stitches in the last Rnd of single crochet stitches to add optional secret feet to your cactuses body!
Add face if desired (See Section 3).
Rnd 9: [sc 1, invdec 1] 6 times (12)
Rnd 10: invdec in each (6)
Cut the yarn, leaving enough to sew closed.
Stuff fully, and sew closed.
Sew on any added sections or flowers.
(Suggested: Mini Flower)
Add spikes (See Section 4).
Embroider on a butt for good luck.
To add feet to my cactuses I suggest using 2 Bobble Stitches (aka "bo") in the last round of single crochet stitches separated by a few single crochets. This should be done in the round right before decreasing (invdec) so that they're at the bottom of your cactus.
For this pattern, replace Rnd 8 with...
Rnd 8: sc 6, bo, sc 4, bo, sc 6 (18)
How to Crochet a Bobble Stitch (aka "bo")
(39:24)
Pro tip: Use more of a scooping motion when pulling through to more easily finish the stitch.
To add a face, I like to start with the mouth, then add eyes using safety eyes on either end of the edges of the mouth 1 stitch away.
1. Using Black thread, insert the needle from the inside of the body and exiting where you want a smile to begin. If you made feet for your cactus, try to make the smile centered with the feet.
2. Pull to the opposite corner of where you want the smile to end, and insert your needle back into the body. This will create a straight line.
3. Insert your needle to exit the body where you want the bottom of the smile to be. Go around the straight line and insert back into the body through the same stitch you last exited.
4. Double knot the two ends on the inside of the body and cut close.
This technique is by far the quickest and easiest of the methods for spikes, however it is the least secure and over time, if handled often, you may find your spikes being pulled out or lost on the inside of your cactus.
Therefore, this is not a pet or child friendly option for spikes if you plan on giving your cactus to a child, or using it as a pet toy, since the spikes can be easily removed and therefore can be a choking hazard.
For this method, thread a long strand of yarn in White, Black, or an alternative Green onto your needle. Begin on the body wherever you want your first spike to be, and insert into the stitch. I personally like using the center of stitches by going between the V in each stitch, this gives the yarn a slightly better hold.
Exit the body from the opposite side or an adjacent stitch. Wherever you want your next spike to be. Pull the yarn through almost entirely, leaving a short end on the outside of your piece from where you initially inserted the needle.
Cut the yarn short from where you exited leaving a similar length for the cut end as the initial tail end was.
Continue this method working all the way around your body to cover the cactus entirely. You can try gluing these ends in to prevent them from pulling out by using a dab of tacky glue for each spike, but be wary, this can leave a messy outside if done improperly.
[All in Petal Color]
Magic loop
Rnd 1: [ch 2, dc 1, ch 1, slst 1] 5 times in the magic loop (5 petals)
Rnd 1: [ch 2, dc 1, ch 1, slst 1] 5 times in the magic loop (5 petals)
Cut the yarn and pull through leaving enough to sew onto the cactus. Pull this end through the center of the flower so both tail ends are on the same side.
Use the two tail ends to sew onto the cactus.
This pot is designed to fit crocheted pieces with 18 stitches in diameter (ie. Mini Cactus Body)
[All in Beige or Pot Color]
Magic loop
Rnd 1: sc 6 into the magic loop (6)
Rnd 3: [sc 1, inc 1] 6 times (18)
FLO / BLO = Front or Back Loop Only
Slst = Slip Stitch
Rnd 4: Working in the FLO, slst in each (18)
Rnd 5: ch 1, working in the unused BLO from Rnd 3, sc in each st (18)
Rnd 6: [sc 5, inc 1] 3 times (21)
Rnd 8: [sc 6, inc 1] 3 times (24)
Repeat Rnd 9 for added height if desired.
Rnd 10: Working in the FLO, slst in each (24)
Cut the yarn, pull through, and hide the end in the first slst made in Rnd 10.
Other Patterns You Might Like