*Requires a Club Crochet account (Don't worry it's free)
Ohhhh boy, Thanksgiving is so close, but you still have time to make some last minute gifts for the people you're most thankful for! These little turkey legs are not only adorable, but super quick to make!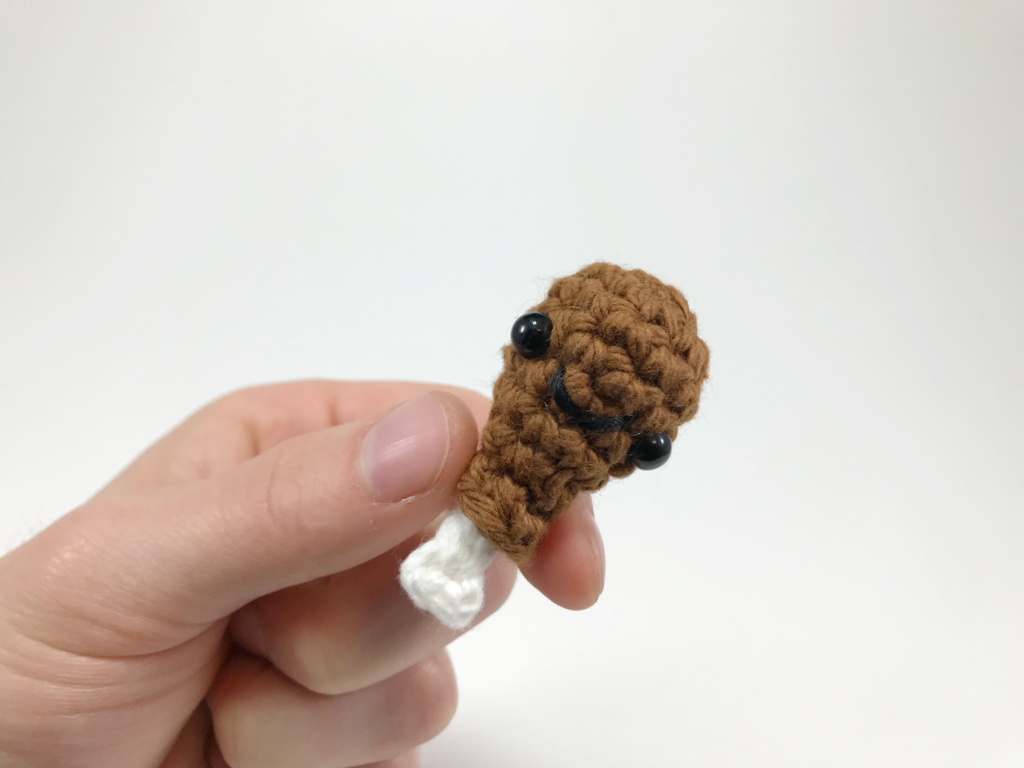 Materials:
• The Yarn (Worsted Weight)
– Brown (Meat color)
– White (Fat color)
• Size G6/4.00mm Hook
• Plastic Saftey Bead Eyes
• Stuffing
• Needle
The Stitches:
– Ch : Chain stitch
– St : Stitch
– Sl.st : Slip Stitch
– Sc : Single Crochet
– InvDec : Invisible Decrease
– Inc : Increase
– FLO : Front Loops Only
The Pattern
Meat:
[All in Brown]
Ch 2 or use Magic Loop method
(01:41) Rnd 1: Work 6 scs in the 2nd ch from the hook or into the magic loop (6)
(02:24) Rnd 2: inc in each st (12)
(03:30) Rnd 3 – 4: sc in each st (12 x 2)
(03:58) Rnd 5: [sc 2, invdec] repeat 3 times (9)
(05:32) Rnd 6: sc in each st (9)
(06:19) Rnd 7: [sc, invdec] repeat 3 times (6)
(07:36) Rnd 8: Working in FLO, sc in each st (6)
Sl.st in first st from Rnd 8, cut yarn and hide the end.
Bone:
[All in White]
Ch 6
(10:56) Row 1: Working into the back loops of the chs, starting in the 2nd ch from the hook, sc and sl.st,
Ch 2, pull somewhat tight, sc into that 2nd ch one more time
Sl.st into the next 4 chs down
Cut the yarn and pull through.
(12:48) Stuff the Meat slightly, and sew on the Bone by sewing the two tails into opposing back loop stitches from Rnd 7 of the Meat.
Double knot, cut, and stuff back into the meat.
Some stuff you might like…
I hope you like stuffing! This turkey amigurumi pattern, like all the patterns on Club Crochet, includes a unique full length video tutorial to help you get through the tough parts!
My girlfriend and I gave up red meat so I made a little steak keychain to fill that beef sized hole in my heart 🐮
How to Make a Chubby Derpy Face
Being a really big fan of shows like Adventure Time and Over the Garden Wall really effects the things I make especially when it comes to Amigurumi.