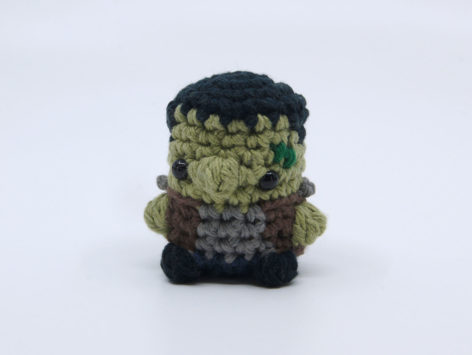 Frankie Amigurumi Pod Person
Why was Frankie so bad at dancing? Because he had two left feet!
Difficulty:
Get this pattern with a Club Crochet Pattern Membership. Already have access? Log in here
• The Yarn (Worsted Weight)
– Green (Skin Tone)
– Brown (Jacket)
– Black (Hair and Pants)
– Dark Grey (Shirt and Shoes)
– Light Grey (Head Bolts)
– Dark Green (Head Stitch)
• Size G6/4.00mm Hook
• Plastic Saftey Bead Eyes
• Stuffing
• Needle
5 Rnds and 4 sts per 1" Finished piece is about 1.5" tall
This pattern requires a few color changes. Be sure to check the note at the end of each Rnd before you make the round to know when to change colors. Carry colors required for each round along with you before you need to do a color change.
For color changes with Color/Color (ex: 1 Red/Blue):
Make the first pull through with the first color (Red),
and next with the second color (Blue)

Example: [1 G, 1 R/G, 1 R, 1 R/G, 1 G, 1 B, 1 B/G]
Abbreviations:    G = Green    R = Red    B = Blue
← Follow Right to Left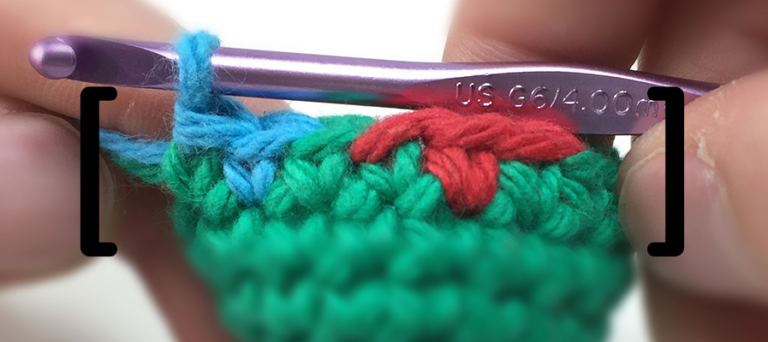 For color changes in Bobble Stitches:
1. Yarn over, insert hook into stitch
2. Yarn over and pull through
3. Yarn over and pull through 2 loops
4. Repeat steps 1 – 3 four times total
5. Yarn over and pull through all the loops on the hook

[Green/Blue/Red] = [Step 2/Step 1/Step 3]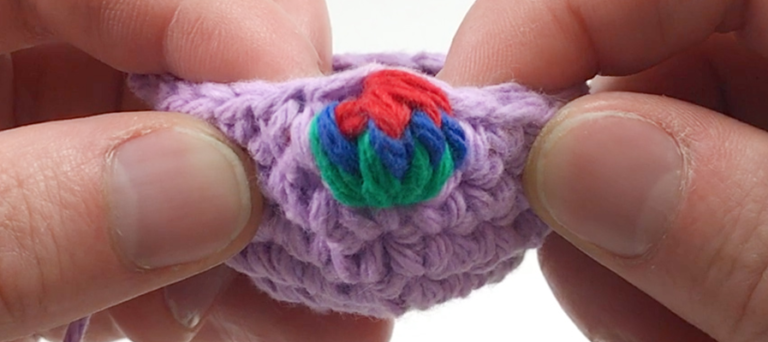 Color Abbreviations for this pattern:
• Green = G
• Brown = Br
• Grey = Gr
• Light Grey = LGr
• Black = B
• Dark Green = DG