Pattern
Miniature Chef Hat

Login to save pattern
Every chef needs a crown! In this lesson we'll be crocheting a tiny chef hat that you can add to some amigurumi!
5 Rnds and 4 sts per 1" 
Finished piece is about 1.5" tall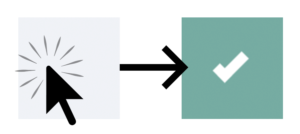 These boxes are checkboxes
These time codes correlate to the video for this lesson
[All in White]
Ch 2 or use the magic loop method
work 6 sc in 2nd ch from hook or into magic loop (6)
[sc 1, inc] repeat 6 times (18)
[sc 1, invdec] repeat 6 times (12)
Working in BLO, hdc in each st (12)
Cut yarn, sl.st and pull through leaving a long end few sewing onto the head

Using a separate thread of white yarn, sew a piece symbol around the top of the hat. Pull tight to bring in the thread and make a 3 bulbs on the top. Tie together on the inside with a double knot.