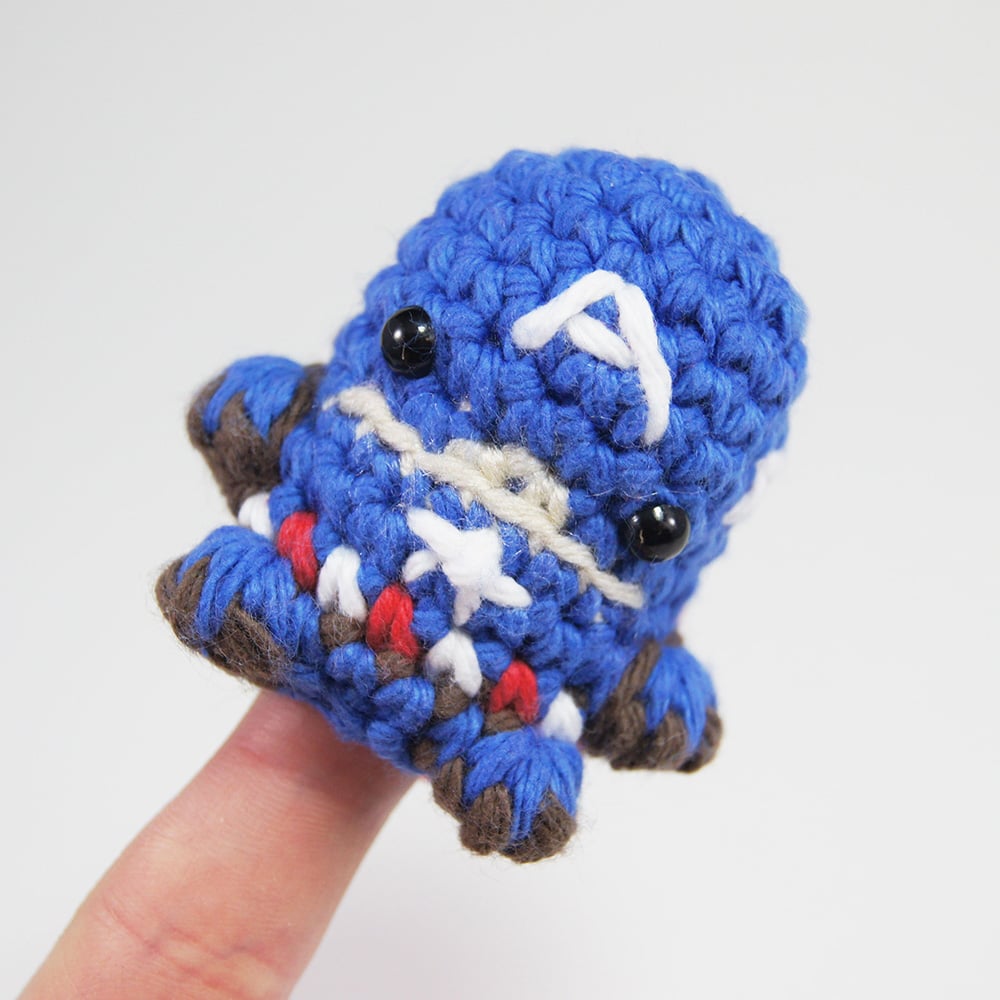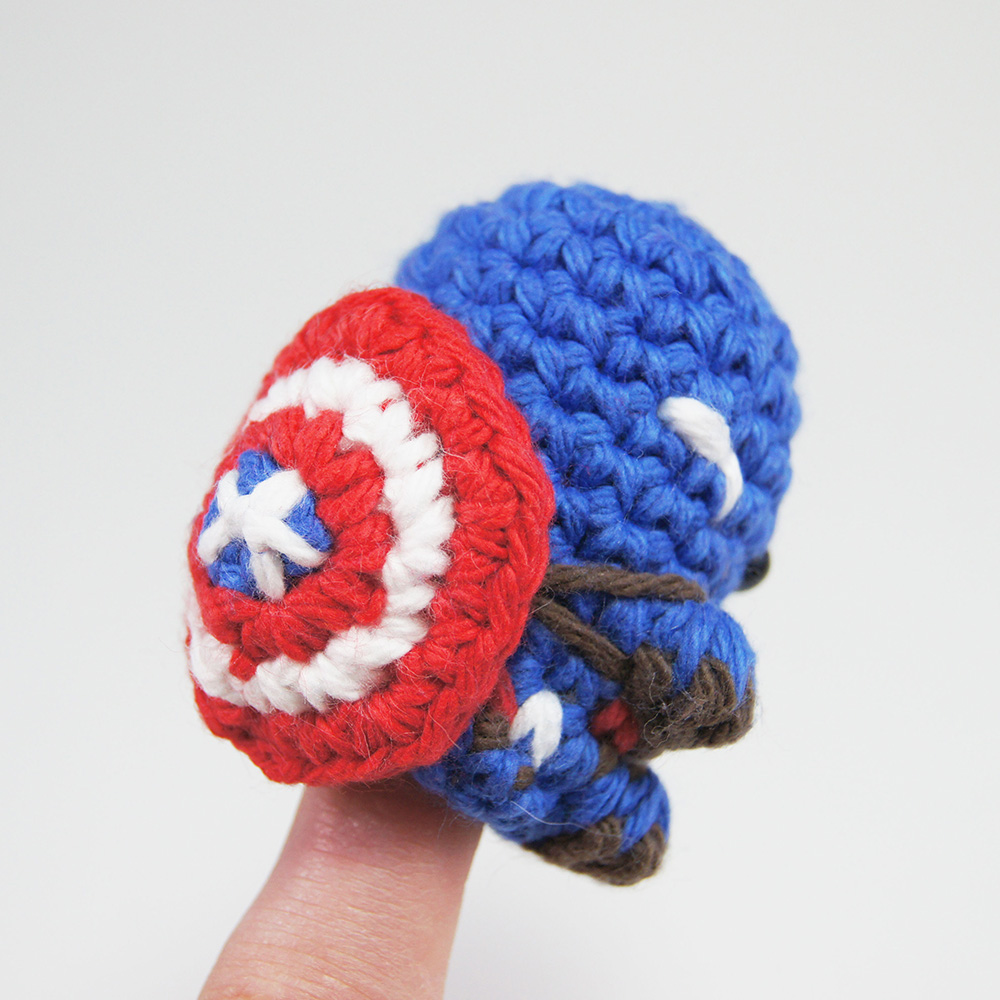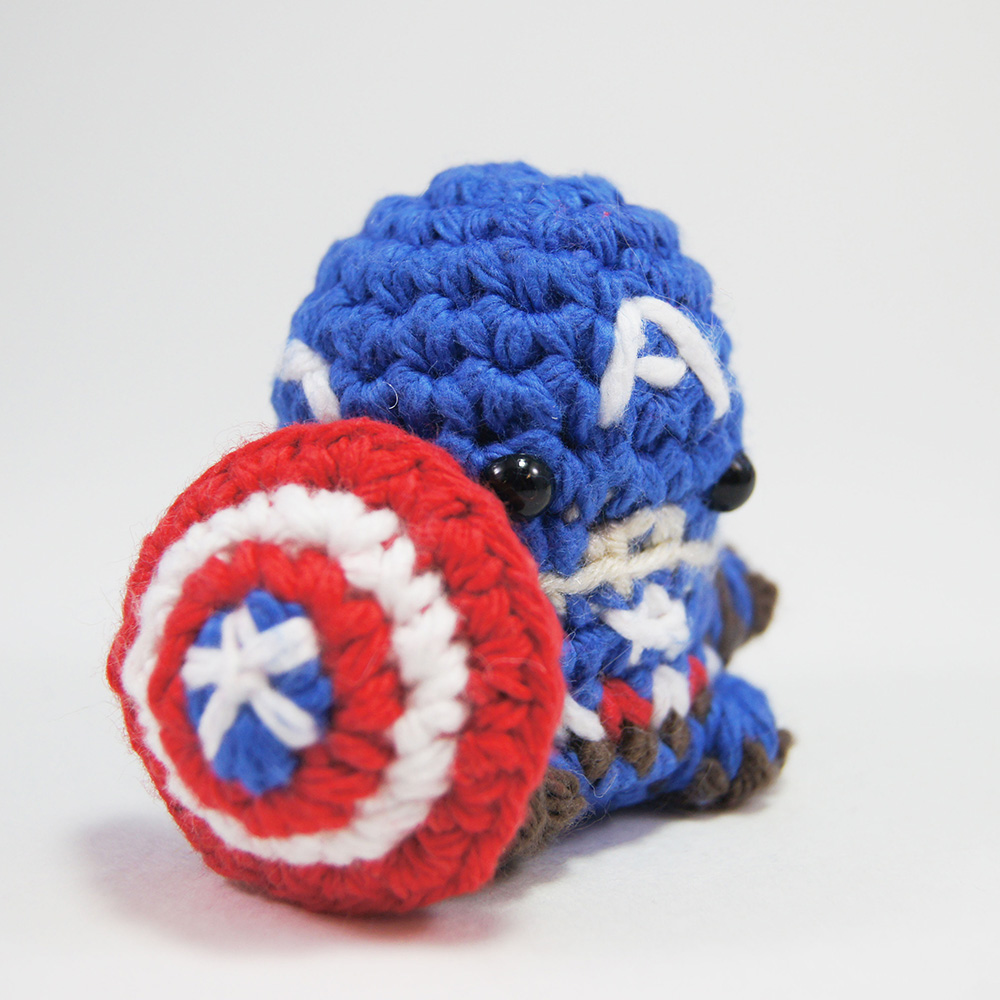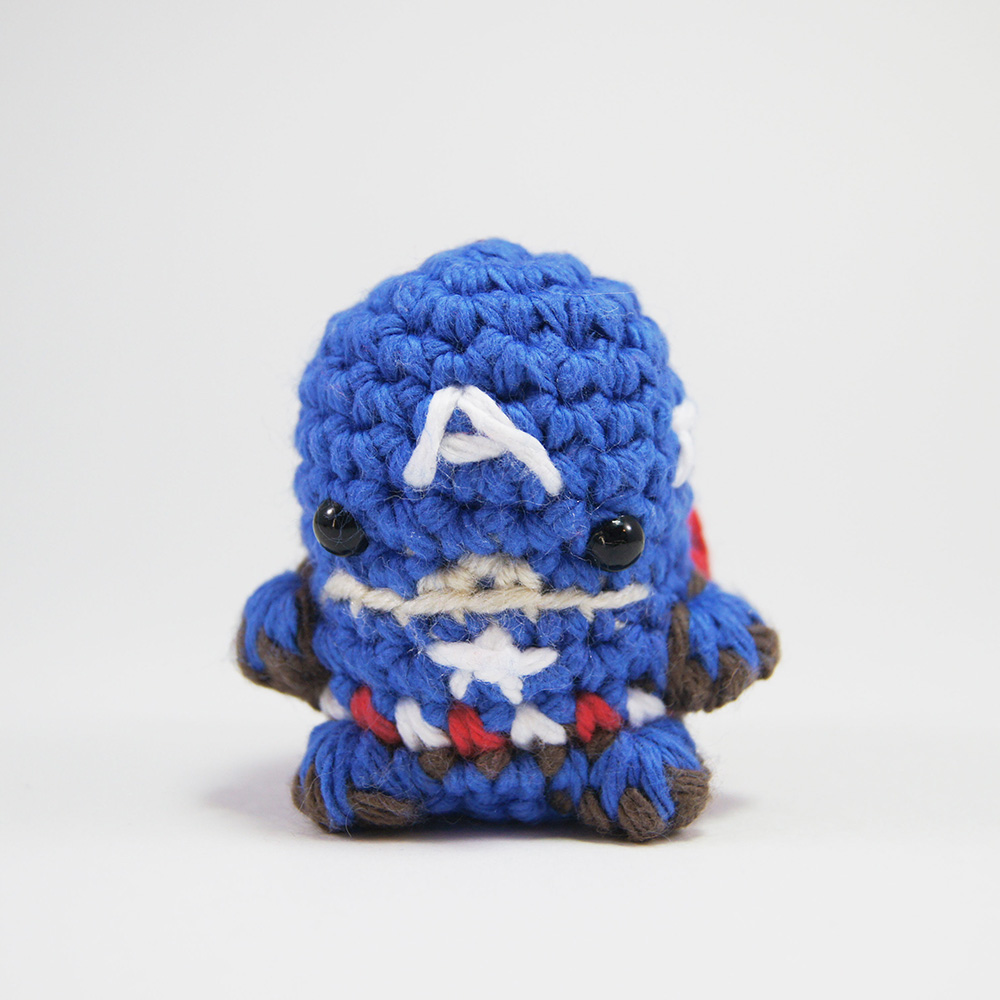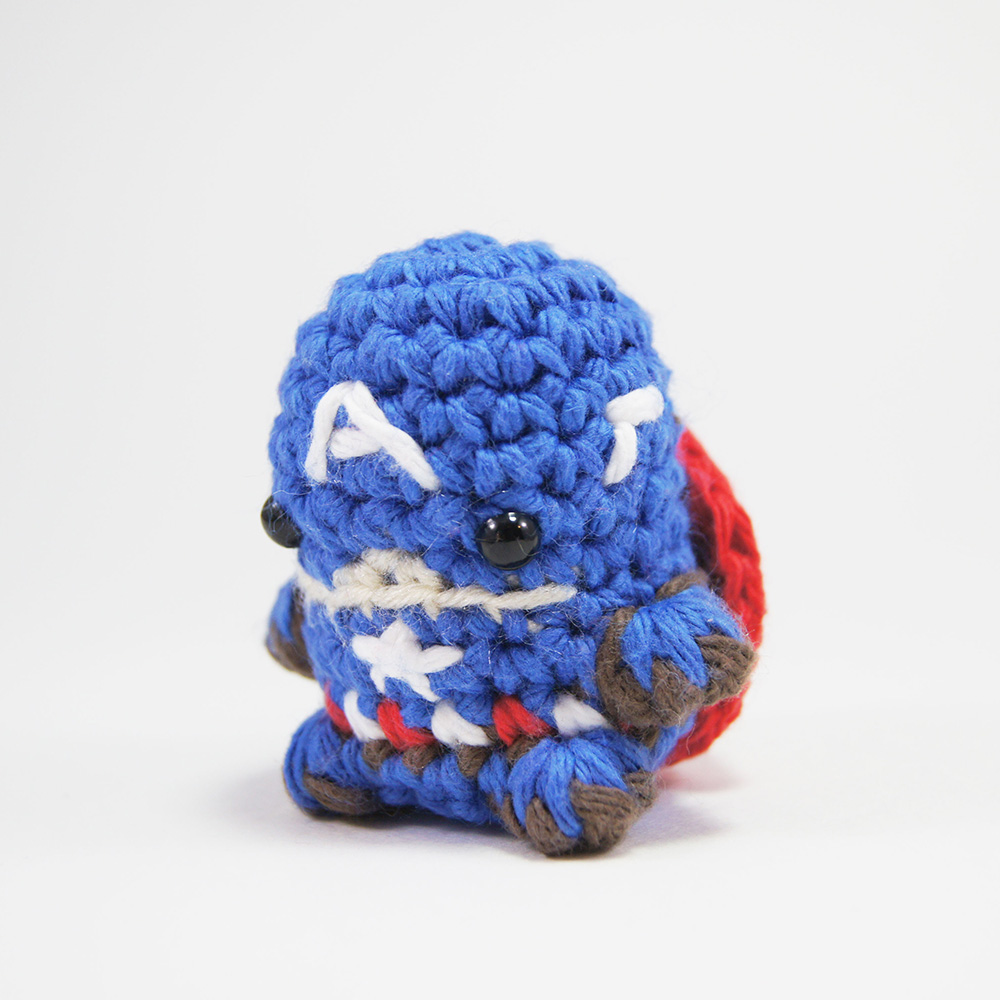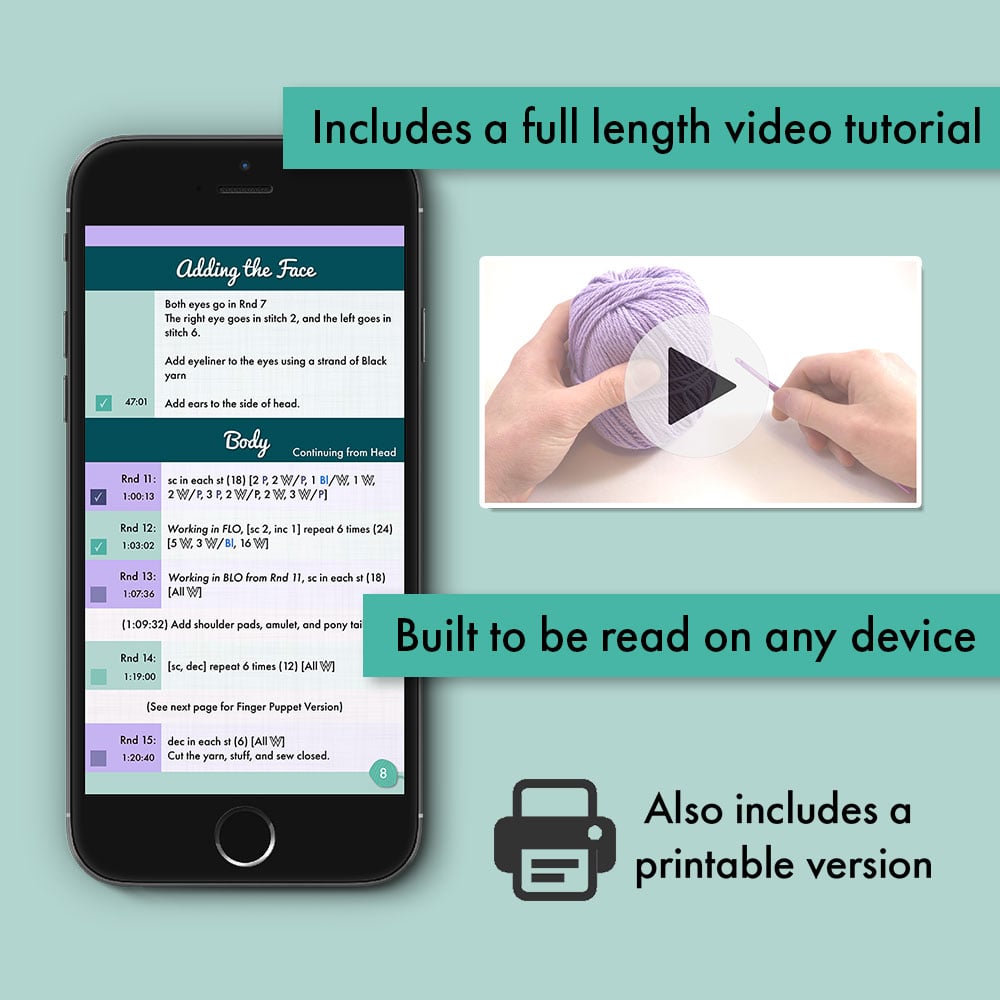 Have your own crocheted Captain America sitting safe and sound on your dresser or hanging on your back pack! This little crocheted Captain America from Marvel's The Avengers miniature amigurumi measures about 3 inches tall when finished and includes 5 unique video tutorials to help you get through the tough parts!
Materials:
• The Yarn (Worsted Weight)
– Red (Shield / Detail)
– Sand (Skin Tone)
– Blue (Main)
– Brown (Belt)
– White (Detail)
• Size G6/4.00mm Hook
• Plastic Saftey Bead Eyes
• Stuffing
• Needle
Gauge: 5 Rnds and 4 sts per 1"  |  Finished piece is about 2" tall
Worked in the Round
The Stitches:
– Ch : Chain stitch
– St : Stitch
– Sl.st : Slip Stitch
– Sc : Single Crochet
– Dec/Inc : Decrease/Increase
– InvDec : Invisible Decrease
– BLO : Back Loops Only
– Bo : Bobble Stitch
1. Yarn over, insert hook into stitch
2. Yarn over and pull through
3. Yarn over and pull through 2 loops
4. Repeat steps 1 – 3 four times total
5. Yarn over and pull through all the loops on the hook
For color changes in Bobble Stitches: [Blue/Red/Green] = [Step 3/Step 1/Step 2]
Color Changes:
(Watch the video)
This pattern requires a few color changes. Be sure to check the note at the end of each Rnd before you make the round to know when to change colors. Carry colors required for each round along with you before you need to do a color change.
For color changes with Color/Color (ex: 1 Red/Blue), make the first pull through with the first color (Red), and next with the second color (Blue)